What is Corrective and Preventive Action (CAPA)?
Corrective action is an action taken after a problem has occurred in a process.
Preventative action is an action taken before a problem happens, once a risk has been identified.
A corrective and preventive action process (CAPA) utilises both corrective and preventive actions to fix issues as well as put in place steps or tasks to ensure risks are mitigated to prevent problems from happening. 
This process is an important part of quality management as it helps organisations ensure that products and services are of a high quality. CAPA helps to identify and fix problems before they have a negative impact on customers.
It is sometimes required depending on the business industry and requirements for regulatory compliance.
Regulatory compliance is the adherence to laws and regulations set by government agencies. Organisations must meet regulatory compliance in order to operate legally and ensure that their products and services are safe for consumers.
There are a number of laws and regulations that organisations must adhere to, depending on their industry. Some common examples include the Food and Drug Administration's (FDA) cGMPs for pharmaceuticals, the Occupational Safety and Health Administration's (OSHA) workplace safety regulations, the National Agency for Medicines and Health Products Safety (ANSM), and the Medicines and Healthcare Products Regulatory Agency (MHRA).
Failure to comply with regulatory requirements can result in fines, imprisonment, or both. It is therefore essential that organisations have a robust regulatory compliance program in place to ensure compliance.
Why is it important?
We can all agree that problems and risks are present in any business, no matter what products or services are provided.
What differs is business' approach to solving or managing these problems and risks.
Using CAPA not only offers a solution to solving problems which have occurred, but within the same process thinking about those risks.
When problems and risks are thought about apart, time is wasted and the perspective of both sides is isolated.
Using this process, you make your problem-solving more efficient, as well as maximise your ability to solve both risks and problems.
Your CAPA process can be either digital through software or run and managed with manual methods.
If choosing to digitise, CAPA software is an important tool that organisations can use to improve their corrective and preventive action process. CAPA software helps organisations automate their CAPA process, track and manage corrective and preventive actions, and generate reports on the performance of the CAPA process.
It also helps organisations to track and trend data, identify risks, and manage corrective and preventive actions. CAPA software can also help organisations to automate corrective and preventive action tasks.
Organisations that implement a CAPA process and use CAPA software see a number of benefits, including:
– improved quality of products and services
– improved customer satisfaction
– reduced costs associated with product recalls and corrective actions
– improved compliance with regulatory requirements.
Organisations that do not implement a CAPA process and do not use CAPA software are at a disadvantage compared to organisations that do. Organisations that do not use CAPA software are less efficient in their problem-solving, have higher costs associated with product recalls and corrective actions, and may not be compliant with regulatory requirements.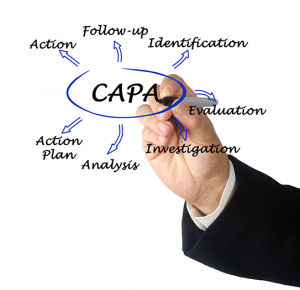 Who is it important to?
CAPA is useful for organisations in all industries. It is important for organisations in highly regulated industries such as pharmaceuticals and medical devices, but it is also important for organisations in other industries that produce products or services that need to meet customer or regulatory requirements.
CAPA can be used by organisations in a number of industries, including:
– Manufacturing
– Food and beverage
– Pharmaceuticals
– Medical Devices
In the construction industry for example, there are high personal safety risks which are essential to be mitigated.
A robust CAPA process would allow safety professionals on site to mitigate those high risks through planned procedures such as safety briefings and hazard signage.
In the US, medical device companies are required to have a CAPA (either on paper or digital) to be present for an FDA visit in order to comply with the US Food and Drug Administration's code. 
HACCP is a similar procedure to the CAPA process, but specifically designed for the food industry as a food safety monitoring system. Find out more about HACCP here.
Quality management for the manufacturing process is important to ensure that products are manufactured according to customer and regulatory requirements. A CAPA process is an important part of quality management for manufacturing, as it allows organisations to identify, analyse, and solve problems and risks associated with the manufacturing process. 
Using a CAPA process helps organisations to improve the quality of their products, reduce costs associated with product recalls and corrective actions, and improve compliance with regulatory requirements.
What should a CAPA system do?
A corrective and preventive action workflow should be written and designed uniquely for your business objectives, activities, and processes. 
The corrective and preventive action process can be divided into the following steps:
The corrective action process usually starts with the identification of a problem. This can be done by employees, customers or other stakeholders.
We offer a free CAPA form download here which allows you to record a problem, conclusions from your root cause analysis, and your action plan in terms of corrections and preventative measures.
Once a problem has been identified, it needs to be defined.
The definition should include the cause of the problem, the impact of the problem and who is responsible for fixing the problem.
The next step is to investigate the problem. This involves gathering data and analysing it to determine the root cause of the problem. Once the root cause has been identified, a solution needs to be developed.
The solution should address the root cause of the problem and include steps to prevent the problem from happening again. The solution should also be cost effective and meet regulatory requirements.
The next step is to implement the solution. This involves putting the solution into action and ensuring that it is followed-up on.
The final step is to verify the solution. This involves testing the solution to ensure that it has fixed the problem and that it meets regulatory requirements. Once the verification process is complete, the corrective action process is closed.
You can find out more about how to design your own CAPA process workflow here.
What should I look out for in CAPA software?
Organise documentation and processes around the BOM (bill of materials). 
All your contacts, suppliers, internal teams, and customers should be able to trace the product life cycle at each stage. 
Having one software which allows you to track against multiple processes and systems, including CAPA, means they are more airtight as they are working together.
This reduces your staff's time being wasted cross-referencing, fixing errors from duplication, and detangling information from different sources.
Support the geographical extent of your requirements.
If your teams or external contacts are international, you need to pick a software which allows for language differences as well as currency exchanges and system requirements for installation.
Manage CAPA process (i.e. tasks, deadlines) and link all steps together and to the documents and evidence required.
Your software should be able to link together the entire process to ensure thorough documentation for compliance.
Be able to integrate processes together to ensure users can see all the relevant information, remove duplication issues and save time by not cross-references.
Having managed access at different parts of the process allows both confidentiality and accountability where it is required.
This also allows different team members access to the relevant parts of the process as needed and reduces the chances of human error.
Provide real-time analytics to ensure resources are where they need to be when they are needed to allow business objectives to be carried out.
CAPA is a continuous process that should be followed-up on throughout the product life cycle.
In order to have an effective CAPA system, you need to have a process that is well-defined and followed-up on. You also need to have the right software in order to manage the process effectively.
Analytics that can be measured as part of the CAPA process are unique to your business, so consider this when choosing your software.
How do you know if your CAPA process is effective?
There are a number of indicators that can help:  are the problems identified and solved in an efficient manner, does it provide information for customer service teams to follow-up on, are all relevant people involved in the problem resolution process included (i.e., suppliers or internal team members), has quality improved since implementation, etc.? These questions will help you determine whether or not your CAPA system works well enough.
If there's anything missing from this article that might be helpful to consider when designing your own CAPA workflow, please let us know!
We're happy to offer insight into what our experts think about creating cost-effective solutions which meet regulatory requirements.
Using Jomo247 for your CAPA process
Finally, are you looking for a CAPA software that will help you manage your corrective and preventive action process effectively?
Look no further than Jomo247. Our software is designed to help you streamline your process and ensure compliance with all regulatory requirements.
Plus, our real-time analytics provide you with the information you need to make informed decisions about your business objectives.
Contact us today to learn more about how our CAPA software can benefit your business!
Looking for more information about CAPA and compliance? Check out our compliance blog for free templates and other helpful resources!